Usay Compare
a leading
insurance comparison website
Our design team created a new brand and website design for Usay Compare, a leading insurance comparison website.
find out more
raising the
profile of their brand
Usay Compare commissioned SOZO to improve their brand identity and redesign their insurance comparison website. Their previous brand and website looked very dated and didn't reflect the scale of their operation.
We started by redefining their brand image inline with the client's brief and growth plans for the business. Initially, we came up with a range of logo designs and recommended a simple but clever typographic option which worked really well across a wide range of media.
Once the logo was decided with, we moved onto designing the rest of the brand identity and brand guidelines.
Visit website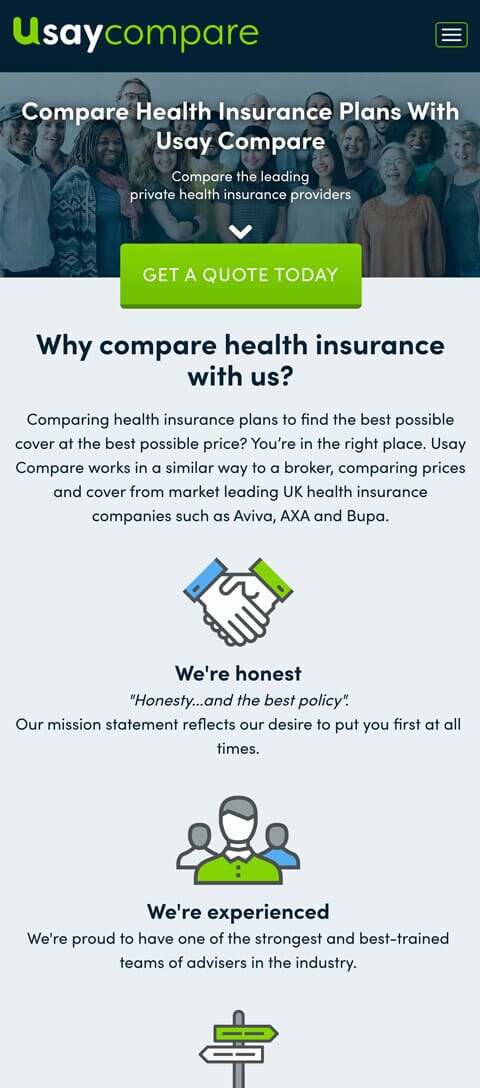 the design of the website
was simple yet impactful
The next challenge was to redesign the website to reflect the new brand. We kept the comparison website design simple yet impactful and focussed attention heavily towards the CTA (call to action), which was to 'Get a Quote'. The new price comparison website has been very well received and we are now working with the client on improving the whole customer journey online.
This is one of many price comparison websites which SOZO has designed. If you have an idea for a comparison site or wish to discuss comparison website development then please get in touch.
Get in contact
Looking for a digital agency to become your long-term partner to help your business succeed online?
Well say hello then!