AI
AI: How to revolutionise your content creation whilst keeping the human touch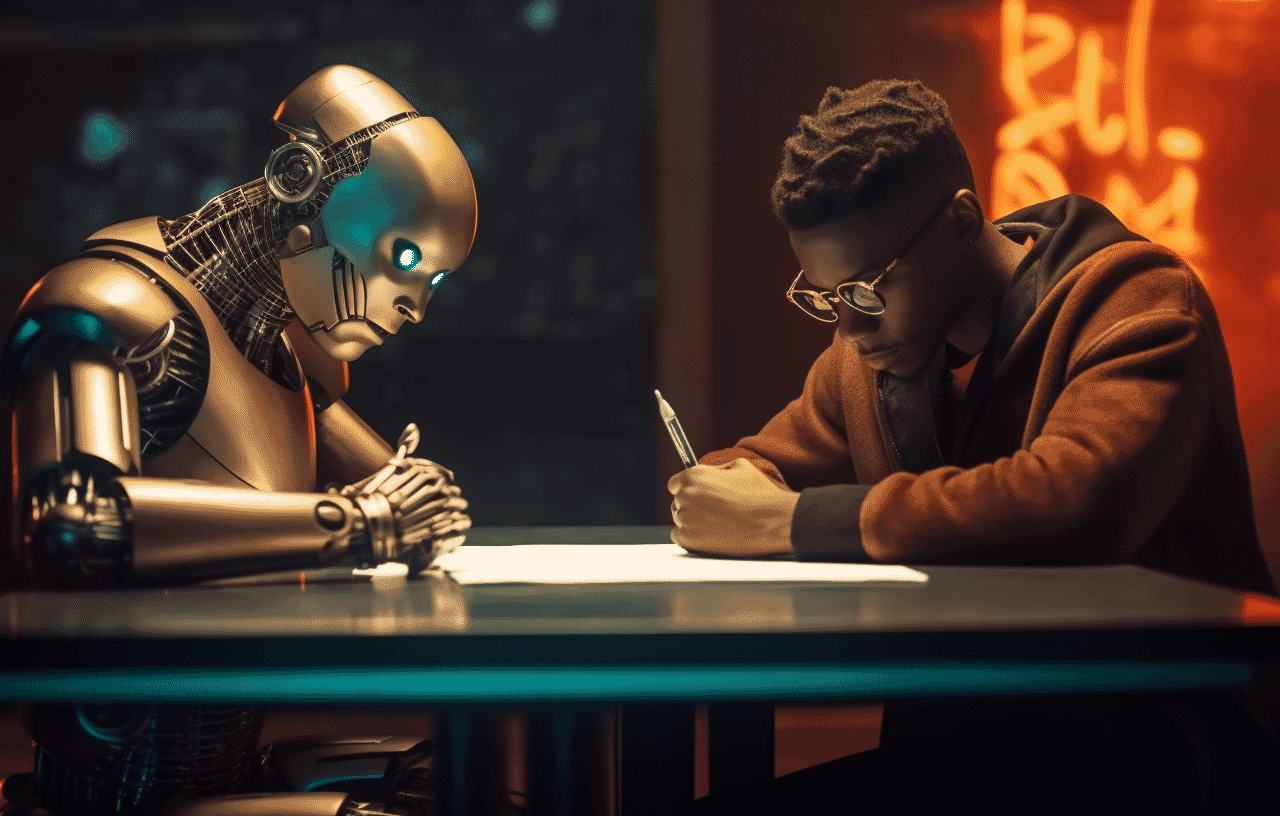 There is no escaping from AI's impact on how companies worldwide do business, from airlines using it to improve the passenger experience to Apple's new AI life coach services. But for Small and medium-sized enterprises (SMEs), there is still a big question on how AI will impact them. Will it replace their workforce? Will it revolutionise their marketing? Or will it just make things more complicated?
At SOZO, we are assessing and adapting our workflow, testing how we can make the most of AI in our business and how it can positively impact our clients. Although we see all departments incorporating AI at some level in the future, our copywriting department is the first one affected by the revolution.
Does that mean we've replaced all of our copywriters with Chat GPT? No, we'd never do that (for reasons we'll go into in this article). But it does mean we've embraced the best bits of AI to make our copywriting department even more potent than it was before.
What is generative AI? 
There are many forms of AI, but today the most significant conversations and leaps in technology are coming through generative AI, and that is what we will be talking about. 
Generative AI is like a digital artist. It learns from lots of examples and then creates new content. This could be images, as with MidJourney, Music like MusicLm from Google or text from probably the most famous AI tool, Chat GPT from OpenAI. As this generative AI continues to progress, these tools become more professional and astounding in what they can achieve, and there is no better example than Chat GPT, the primary tool we have been looking at for content generation.
Can AI create all my content?
As the discussion around AI continues to rise, we know that for our clients, it is crucial to address the question: can AI create all my content?
Although AI can speed up content creation, increase efficiency, and reduce costs, it's important to keep in mind that AI-generated content cannot capture the unique tone of voice and effectively communicate brand values like human-written content can. Furthermore, AI may not perform important tasks such as keyword research as effectively as a human, which could result in your content being difficult to find and unread.
We understand there is a temptation to take all of your content in-house using Chat GPT to produce it. However, for companies creating content to improve their search rankings, that might not be a good idea.
Google's stance
Google is changing how it assesses content to keep providing the best experience for its users. It isn't banning AI as many headlines would have you believe. Its goal, as always, is to provide the best results for its users, regardless of how the content is produced.
Not all AI is spam (if used correctly!)
Content has been generated to manipulate search rankings well before AI was a thing, stuffed with keywords but providing little to no value to the reader. This content is spam, and Google will downrank or even ban it, whether a human or AI produces it.
However, with AI, there is more temptation to create large amounts of articles. When articles are produced for quantity, not quality, this can be harmful to your Google rankings.
Google's stance is clear 'Using automation—including AI—to generate content with the primary purpose of manipulating ranking in search results is a violation of our spam policies.' 
This can then become an issue for website owners, and although AI continues to improve, the risk of their page ranking falling to potential unrecoverable levels is not worth the gamble.
Now we have to point out that it isn't just AI content that Google can mark as spam and ban from their searches, but the rise in manipulative AI-generated content means Google has had to reiterate its stance on spam.
The extra emphasis on a writer's experience
For a long time, Google has set guidelines for assessing content called E-A-T. These E-A-T guidelines have been crucial for creating high-quality web pages and websites that users can rely on for accurate information. These guidelines stand for Expertise, Authoritativeness, and Trustworthiness, meaning that Google values websites with content written by experts, follows ethical standards, and provides unbiased and trustworthy information.
Recently they have added an extra E to the guidelines – Experience.  Experience backs up the Expertise, which gives content Authority, and ultimately inspires readers to Trust what they are reading. So, Google wants to see that the writer has been to the restaurants they are writing about or used the products they are reviewing. This is something that an AI can not do. Currently, it can only emulate that sense of expertise and experience. To maintain a reader's trust, we will be looking to add more examples of experience and expertise to our writing at SOZO, and you should be doing the same with your content. 
How AI is revolutionising content writing
AI is changing the way content is generated; in just a few months, it has given the power of writing to a new audience who can start creating content within a few minutes rather than using a copywriter. There are a few things that Chat GPT can do that are astounding.
More words per second
It is faster than any human writer could be, churning out hundreds of words in seconds. It can write faster than a human and make fewer grammatical errors, saving time overall. This means that you can put out more blogs and rank higher, but as we discussed, this is a dangerous game to play with Google.
Overcomes writer's block
If you want to create content, developing an idea can often take time. Using AI, you can discuss content ideas and work out what points you wish to address. It is like having someone in the room you can bounce ideas off.
Breaks down content
If you have a blog and you want to use it on other channels such as Twitter or LinkedIn, you can ask Chat GPT to summarise the content in simple terms and turn your blog into harder-working social posts.
How Sozo is using AI in our content creation
At Sozo, we continue to experiment and test AI, pushing it to its limits and finding its faults; we are learning more and more about its capabilities as a tool, and even though it can be amazing, it can also be hit-and-miss.
The fastest and simplest way we use AI to help content is to use it as an aide. We ask it to do simpler jobs. Help us research and see different perspectives on a topic, work on how we structure the article, spot anything we might have missed, or come up with the metadata.
By giving AI these simpler jobs, we have more time and brain power to focus writing the blogs and then enriching those blogs with external sources. But even with these simple jobs, there are a few things we need to watch out for. 
What to watch out for with AI Content
AI-generated content has limitations, and there are certain aspects that humans can do that robots cannot. Here are some things to keep in mind:
Consumer fatigue
There is already a considerable amount of noise on the internet that you must battle to be heard. With the increased output of purely informational content from the same single source, consumers will become overwhelmed and seek new sources of information looking for articles that can engage them in a new way.
Factual inaccuracies
AI is only as good as the data you give it, and for the moment, the time of writing the data for most users is outdated, and sometimes, it just makes facts up. In fact, only 80% of AI-written content is accurate, meaning that one in five blogs written by Chat GPT could be full of rubbish, like in the recent defamation case against OpenAI, where an Australian Mayor is looking to sue if they do not correct ChatGPT false claims that he had served time in prison for bribery.
For the current model of Chat GPT, the data used was from 2021, so it still thinks Queen Elizabeth is the head of the Monarchy and Boris Johnson is still the Prime Minister of the UK. These seem trivial examples, but they show that you can't blindly trust what your AI writes.
Recently a beta version of Chat GPT, which has access to the web, has been released to premium members. Still, through our research, this has been very hit-and-miss, with misinterpretations of data and often failed connection attempts.
Unnatural language
It is easy to forget that content should always be written for the reader first, not just for search ranking. It needs to engage the reader to draw them into the story, your website, and your products. How does it do this? With language. If an article doesn't feel right, readers won't connect with it and will potentially turn away from your website and company. An AI doesn't know your audience or their reading preferences; it cannot tell the difference between a professor who is used to reading long sentences with complicated words to someone who wants easily digestible information quickly and easily. This is where a writer's experience comes into play.
It can cost you time
AI software, like Chat GPT, is only as good as the prompt. The way you construct your prompt can create staggeringly different outputs. This has led to people experimenting with various prompts to generate their desired results, called 'prompt engineering'.
Prompt Engineering takes time to learn and experiment with, and when you combine this with multiple reiterations, fact-checking, sense-checking, humanising, developing a tone of voice, and editing takes time and soon, that money you thought you were saving with AI can start costing you something more precious.
What humans can do that AI can't
Even though the abilities of computers have increased significantly over the last decade, they are still restricted by their programming and the prompts a user provides. And there are things that no AI can do: 'those uniquely human skills of creativity, care, intuition, adaptability, and innovation are increasingly imperative to success.' (As written in the Harvard Business Review's article The Secret to AI Is People).
Imagination
AI works off your prompts; you tell it what to write or look for, and it can do it. However, it cannot use its imagination because it doesn't have one. This lack of imagination limits its ability to generate genuinely original and creative writing and is something at SOZO we pride ourselves in with all of our content creation.
Social understanding/nuances
AI is a global beast. It doesn't understand the small cultural nuances that make your customers different from someone else across the other side of the world. For AI, it is all just data.
Common sense
AI is excellent at running simulations; it is how it learns games like chess and Go, but something it could be better at is common sense. It struggles to understand the deep understanding that humans learn through everyday life; this means it can miss out on glaringly obvious issues with the text and doesn't understand questions the reader might have, leaving them frustrated rather than satisfied.
Brand and tone of voice
AI cannot create a unique brand or tone of voice. That means the 'You Factor' will be lost from AI-generated articles. Soon there will be too much content to differentiate between them. If you want to stay unique and produce relatable copy with your audience in mind, AI is not the person for the job.
SOZO and AI
As AI continues to evolve, we will continually look for new ways we can use it to help our client's businesses and help them keep up with the ever-changing world. For us, it isn't about replacing writers or programmers but about making ourselves more efficient for our clients. 
As a tool, AI allows us to spend less time on planning or researching the content and put more time into the creative aspects of content creation, but one thing we will never lose is the human element. Additionally, AI can repurpose content, such as turning blogs into LinkedIn posts or FAQs, but even in these examples, AI is just the starting point; everything that we do needs to be read, edited and approved by a human to make sure it boots the same standards we expect from our content.
Like everyone, we are excited about AI's opportunity in our space, but we are very cautious to help our clients avoid the pitfalls of AI and help guide them into a smarter future.
If you are looking for an article service that combines the efficiency of AI with the skills and experience of human writers SOZO can help. Drop us a call on 01242 511912 or email us at info@sozodesign.co.uk and we will be more than happy to guide you through our Article Writing Service.
Looking for a digital agency to become your long-term partner to help your business succeed online?
Well say hello then!