Sustainable web design
The SOZO Guide to reducing your digital carbon footprint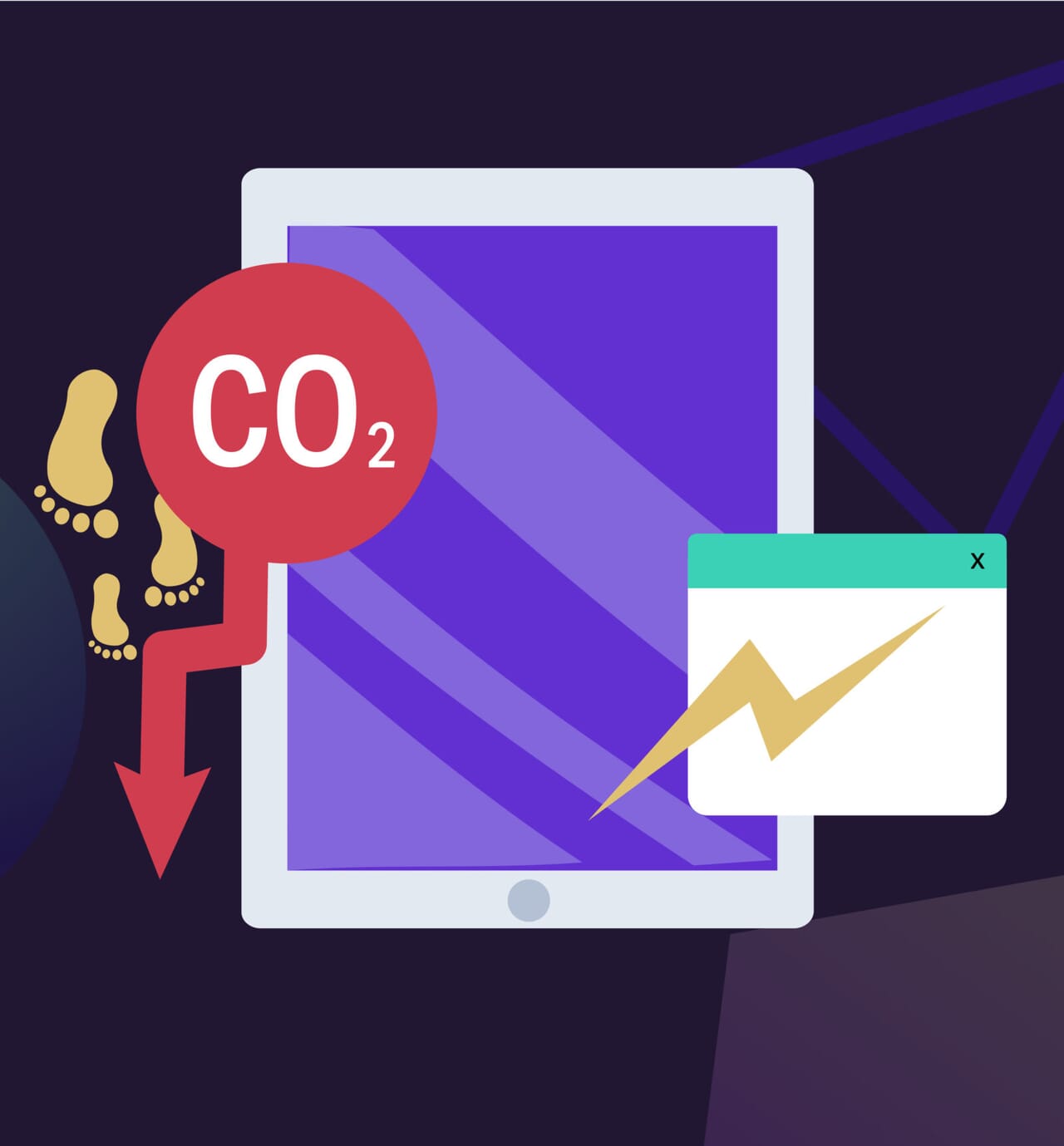 Video conferencing, cookie settings, website design – every online action you take requires energy and this has an impact on the environment. But before you jump back in the car or let your cookies crumble, read our guide on how to reduce your digital carbon footprint – it's better for the planet, your productivity and your pocket…
Every time you switch on the computer, you're using energy. The more energy you use, the more CO2 you release into the atmosphere. But there are ways of working digitally that are environmentally-friendly. Read on to find out how your internet use affects your digital carbon footprint and discover some top tips for reducing your impact on the environment.
And if you feel like it, if you're as keen on the environment as we are, you could introduce some of the methods into your own workplace. Then you can show your clients and colleagues (over a sustainably-sourced cup of coffee via a virtual meeting, of course), that when it comes to climate change, you mean business.
What's the digital carbon footprint of video conferencing?
The virtual meeting. A mainstay of modern commerce. Familiar as email and almost as useful. For most businesses, especially within the digital industry, video conferencing is a central means of production. The virtual meeting is to the 21st Century what the office was to the 20th Century, the factory to the 19th. And a video call is probably greener than a commute to the office, and certainly greener than a 19th-century factory running on coal – but just how green is it?
'One hour of video conferencing can emit up to 1kg of CO2′ [Yale, MIT, Purdue study]
Tell me more…
A litre of diesel will produce 2.68kg of CO2 in a typical combustion engine. A top-of-the-line diesel car has been reported to drive at 70mpg in ideal conditions. A gallon is equivalent to 4.546 litres. So one hour of video conferencing could be equivalent to driving 5.75 miles in a diesel car.
According to CNBC, 'about six per cent of workers say they spend more than ten hours per week attending unproductive meetings and calls'. If this is ten hours of virtual meetings, that's equivalent to 57.5 miles. That's like driving from Manchester to Liverpool by car and over two-thirds of the way back. And that's just on unproductive meetings!
So, what can you do?
Reduce video quality: most video conferencing platforms provide video settings. In the settings, the user can reduce the video quality (you may notice this happening automatically if your internet speed, or the internet speed of others in the meeting, is below a certain level). This has another benefit – reducing your data consumption. The data consumption on a 1080p (high definition) group call can be up to 2.4GB per hour: reduce the video quality to the lowest setting (below 720p) and the data consumption drops to 450MB per hour for group calls, 270MB for one-on-one calls.
Go audio only: you could simply turn video off. This could be a particularly good option for meetings with people you see often in person. Turning off the video may also allow for a smoother call, more suited to slower internet speeds.
Fewer meetings: how many meetings do you attend which you might consider unproductive? How many meetings are useful, the information exchanged valuable? Unproductive meetings are not just detrimental to productivity (and, in turn, detrimental to all things that productivity determines); they're also detrimental to the environment.
What's the digital carbon footprint of cookies?
What's a cookie? In a nutshell, a cookie is a bundle of collected data. The data collected depends on the cookie. There are cookies which help a website to function (often termed 'necessary cookies'). There are personalisation cookies which are used to establish user settings, or other in-browser features (the user's preferred colour scheme, for example). And then there are tracking cookies.
If you've read articles about cookies, it's probably tracking cookies you were reading about. A tracking cookie is a sort of digital barnacle which sticks itself onto your browsing ship – a megaton cruise-liner, sailing the seas of ecommerce. In short, a tracking cookie shows the websites you've visited before the website you're currently visiting.
If you're thinking that all seems pretty green, after all, it's just a few bytes of information, here's the bad news. Research by Carbolytics revealed that of the top one million websites:'21 million cookies per single visit to all these websites, belonging to more than 1,200 different companies, which translates to an average of 197 trillion cookies per month, resulted in 11,442 monthly metric tonnes of CO2 emissions.' 
Tell me more…
According to Carbolytics Project Lead, Joanna Moll, 11,442 metric tonnes of CO2 per month is equivalent to the monthly carbon emissions of a European town with a population of 30,000.
Angwin and McGinty of the Wall Street Journal report that,'the [top] 50 sites [in the US] installed a total of 3,180 tracking files on a test computer used to conduct the study.' This was back in 2010. An individual barnacle might seem small. But if you stick enough of them to a single ship, even a megaton cruiser-liner, it will slow the ship down.
A slower browser uses more energy. And don't forget, the collected cookie data has to be stored, sometimes in massive amounts, requiring a data centre which in turn consumes vast amounts of energy to power the servers housed inside.
So, what can you do?
Select necessary cookies only: arriving on a website, the first thing you may read is a cookie notice: 'This website uses cookies' and then cookie options: necessary cookies, personalisation cookies, advertising cookies. You can choose which cookies are allowed on your browser, in other words, how many barnacles on your ship. Click necessary cookies only, or remove permissions for personalisation cookies and advertising cookies.
Adjust your browser settings: most browsers provide the user with privacy options. You can set these in a similar way to the cookie settings for individual websites to reduce the cookies on your browser. Browsers vary with the settings they provide. Some browsers are often regarded as better-suited to anti-tracking.
Turn on 'Do Not Track': this is a further option which can be selected in the browser settings. Switched on, this feature sends a message to each website indicating that the user has opted out of tracking cookies. However, a large proportion of websites ignore the request. Other websites may show a message to the user indicating that they 'Do Not Track' in accordance with the request.
What's the digital carbon footprint of websites?
Your website is a window to your world. And naturally, you want it to look good: high-res images, pre-loaded, high-definition video, vibrant colours, sign-up newsletters, downloadable business cards, an 'email me' button, and other exciting features. A good-looking website could be the key to your business, a central asset: it's your shopfront, virtual office and HQ. But how does it impact the environment? Your website might be good-looking, but how green is it?
Tell me more…
According to research, '…the average website produces 1.76g of CO2 for every page view; so a site with 100,000 page views per month emits 2,112kg of CO2 every year.' That's roughly equivalent to an average standard utility farm tractor (52-75bhp, 2,388kg).
And we're talking about an average website here. A good-looking website, with lots of features (particularly autoplay features), might generate as much as 10g of CO2 for each page visit.
So, what can you do?
There are many ways to reduce the carbon emissions generated by your website. They fall into two categories: (1) reducing the emissions of the website itself (ex-ante), or (2) offsetting the emissions (ex-post).
Ex-ante
Sustainable web-design: a poorly optimised website results in a far greater energy consumption for the user. You know the websites – you click onto the site and your laptop fans fly into overdrive, the operating system cries out, pleading with you: 'this webpage is using significant power, closing it will increase the efficiency!' Much better to have your website streamlined, minimal even, and carefully designed to ensure the best impression from the user.
Green-hosting: you can choose to host your website on servers that are powered by renewable energy. Read more about this in our blog 'What does the green web mean for businesses?'.
Reduced autoplay: autoplay features can be a central factor in a high emissions website. The video consumes energy (and data) to preload, and then more energy when it starts up. And the user may not have clicked the video in the first place! Autoplay can be annoying to some users, distracting from the key information on the site. And for users with slower internet speeds, autoplay may result in the website not loading or displaying properly.
Ex-post
Tree-planting: if your website sits at the higher end of emissions per page visit, you can offset the emissions with various methods. Tree-planting is a good place to start. It's great to plant trees, regardless of whether you're looking for offsetting or not. Trees raise morale. Planting trees raises morale still further. If you're looking to feel good about sustainability, start with some tree-planting.
Green energy: in addition to tree-planting, you can offset the emissions from your website with more elaborate offsetting measures: green energy and carbon removal projects. As the price of fossil fuels continues to rise, investment in renewable energy (solar, wind, fusion) is becoming increasingly widespread.
At SOZO, we're proud of our green credentials. We create websites that are fully optimised, that look great but don't use unnecessary energy. And we plant a tree for every website we build. If you'd like to discuss how we can build a green website for your business, then please do get in touch.
Looking for a digital agency to become your long-term partner to help your business succeed online?
Well say hello then!