AI
Navigating the Future: How AI is Transforming SEO for SMEs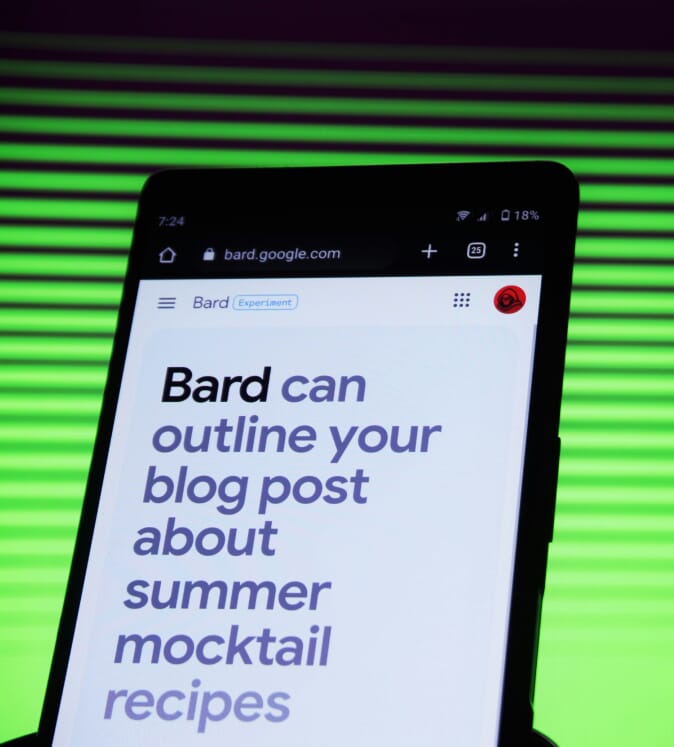 In the dynamic digital marketing world, Artificial Intelligence (AI) is not just a buzzword; it's revolutionising how we approach Search Engine Optimisation (SEO), enhancing content creation, and digital marketing strategies.
With Google's updated stance, the origin of content, whether human or machine-generated, takes a backseat to the originality and helpfulness of the content. For Small and Medium-sized Enterprises (SMEs), keeping up with AI in SEO is not just smart; it's essential for staying ahead of the curve. This article isn't just about the 'what' of AI in SEO; it's about the 'how' and 'why' – with a sprinkle of real-world magic from SMEs that are already riding the AI wave.
The Rise of AI in SEO
Imagine SEO as a savvy conversation with your audience, not just a time-consuming box-ticking exercise in keyword stuffing. AI, recognising the nuances of user intent, aligns with Google's focus on content that provides depth over density, underscoring the value of AI in crafting high-quality, relevant content. Think of AI as your Sherlock Holmes, dissecting user queries with precision. Tools like MarketMuse and Clearscope aren't just tools; they're your digital SEO companions, helping craft content that resonates with both humans and algorithms.
AI's Impact on Search Engine Algorithms
Google's BERT and RankBrain have set a precedent for AI search algorithms that favour in-depth analysis and user benefit. This aligns with Google's latest guidance, which discourages superficial content updates and prioritises expertly viewed, authentic content creation.
This means your SEO strategies need to be equally smart, focusing on quality content that speaks to human interests and AI algorithms.
Should You Use AI to Improve Your SEO?
For our client Indulge Brownies, a newcomer to the online confectionery market, we integrated AI into our SEO strategy to help them stand out in a crowded space. We saw AI-crafted content as the driving force behind 50% of its organic traffic, assisting in initial consumer engagement and contributing towards early commercial goals. The associated analytics data demonstrates this impact, showing a steady increase in organic reach that has been key to establishing Indulge Brownies' online presence in its foundational year.
This strategic pivot to AI-written content yielded a substantial increase in organic growth. These AI-created articles were so effective at generating same-session purchases that they were responsible for an astounding 50% of the brand's total traffic. Indulge Brownies' digital footprint benefited greatly from AI-powered articles because they diversified traffic sources away from the company's previous emphasis on social media.
However, it's not all about AI magic. The flip side? Over-reliance on AI can make your SEO impersonal. The key? Balance AI insights with a human touch, ensuring high quality in your SEO efforts.
The Art of AI-Enhanced Article Writing
Embracing the power of AI doesn't mean relinquishing the human element of content creation. At SOZO, we believe it's about using AI as a digital artist to generate initial drafts, suggest ideas, or even produce intricate pieces of content like images or music. AI tools, such as ChatGPT, can be a game-changer in efficiency and cost-effectiveness for SMEs, accelerating the content creation process.
However, these AI tools need human curation and direction. There is an art to AI prompting to ensure the AI produces meaningful content. It is imperative that AI content is checked and edited by a real person who understands your brand and the topic you are talking about.
Google's E-E-A-T and the Role of AI in Content Authenticity
With Google's emphasis on Expertise, Authoritativeness, Trustworthiness, and Experience (E-E-A-T), the integration of AI in article writing must align with these principles. AI can help aggregate data and provide factual information, but the expertise and narrative that define a brand must be conveyed through human insight. AI can lay the groundwork, but a human hand can only draw the final stroke that connects with the reader's emotions and experiences.
Driving Traffic with Substance
No matter how effective your SEO or AI tools are at driving traffic, the ultimate measure of success lies in the engagement and conversion rates of your landing pages. An AI can populate a page with SEO-optimized content, but it cannot ensure that the visitor's journey continues towards a meaningful interaction or transaction. Thus, while AI facilitates the creation of potentially high-ranking content, the human touch ensures that once the users arrive, they stay, engage, and convert.
Your landing page design is crucial in converting visitors into engaged users and ultimately into customers. Find out more about landing page optimisation here >
How AI Influences User Search Behaviour
AI is personalising user searches more than ever. This means your SEO strategies must evolve to meet the expectations of a more sophisticated algorithm that values the "why" behind user searches, pushing content that goes beyond mere keyword optimisation. Google is favouring 'helpful content' and displaying such content on the SERP to encourage zero click search behaviour (i.e., the user gets the information they need from Google's results page rather than having to click through to a website).
It's like being a mind-reader, predicting and meeting your audience's needs even before they explicitly express them, a skill crucial for optimised content and blog posts. So think about what questions your customers might have about your industry and then write useful content which provides answers that Google will favour.
Practical Tips for SMEs to Adopt
For SMEs dipping their toes into AI, start with user-friendly AI tools. Tools like ChatGPT and Google's BARD for content creation can be your first step into the AI SEO world. Remember, it's not just about using AI because it's the latest trend; it's about using it wisely to save you time so you can focus on the human value you can bring. Blend AI insights with your unique brand voice and well designed landing page experiences for an SEO strategy that's both smart and soulful.
In wrapping up, AI in SEO is not just a trend; it's the future we're stepping into. It's about creating a synergy between technological sophistication and human creativity. As AI continues to evolve, staying informed and adaptable is key. Think of AI as your ally, not just a tool, in crafting SEO strategies that are not only effective but also ethical and responsible.
The future of SEO is an exciting blend of AI innovation and human ingenuity; let's embrace it with open arms.
Adapting to Google's Search Generative Experiences
With Google's introduction of Search Generative Experiences, SMEs must refine their SEO to produce content that aligns with E-E-A-T principles and engages in a more conversational, user-focused manner. This approach prioritises the user's journey from discovery to conversion, underscoring the importance of a well-designed landing page that complements AI's ability to drive traffic. As AI shapes the future of search, balancing technological innovation with a compelling user experience is crucial for turning interest into action.
If you would like to discuss how AI can help with your own SEO and marketing then get in touch to arrange a coffee >
Looking for a digital agency to become your long-term partner to help your business succeed online?
Well say hello then!